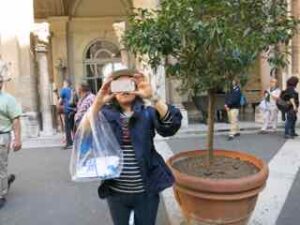 We are just recovering from jet lag after 4 days in Rome, following 4 days in Positano on the Amalfi coast. Here are a few of the things we learned for families traveling to Rome. I'll let you get the data background elsewhere. Here I just want to get down some of our specific recommendations and tips based on our mistakes. While four days isn't a lot of time in Rome, it did force us to do a lot of fast walking. We eschew guided tours so that helps a lot since we don't spend a lot of time waiting for crowds. Jasmine and I find that making up stories, facts and anecdotes is cheaper and more interesting for the kids anyway.
One note on eating. There are many good and probably many more bad restaurants in Rome. Check with friends and hotels so you don't miss out on great meals. If you don't have a lunch reservation, go at exactly 12:30 when restaurants open or you may lose out.
1. Sistine Chapel and/or Vatican Museum – You should get reservations to visit either museum or the Sistine Chapel. N.B: these reservations are for a specific hour and our concierge told us that they do not allow early or significantly late entries. Families should know that they now make you snake your way through the Vatican collections in order to see the Sistine Chapel. There are shortcuts, but you do end up spending more time getting to the Sistine Chapel than you might have thought. The sad part of this arrangement is that you're mostly moving toward the Sistine Chapel in a sweaty hoard completely insensitive to the art around them including the famous Raphael room. Once in the Sistine Chapel, you stand together with two to three hundred people staring at the ceiling, the smarter ones among them with either an acoustiguide or a good guide book. Here, it may also be advisable to bring a binoculars if you want to see much detail.
At the end, make sure you exit to the door on the right marked "tour groups only." Follow any group through this door trying not to express any or much Catholic guilt and you're home free. This route takes you on a relatively short and line-free (past bathrooms!) into St. Peter's. There's plenty to gawk at here, but sadly the Pieta is now sheltered like the Mona Lisa, making it more of a check mark tourist stop than any meaningful art experience.
2. St. Peter's Cathedral – It's easier to get into French Laundry than into St. Peter's these days depending on the hour, with lines easily stretching around the entire courtyard for more than an hour for free entry. That's why you need to get in as part of your Sistine Chapel visit (see above)!
3. Hop on, Hop off bus tours – While Jasmine tends to dismiss these out of turn, we had an excellent experience with the Big Bus tours in London. In Rome, that company does not exist, but double decker busses do. We heard that "Sightseeing Roma" has the best hop-on/hop-off tours. They also do combo upgrades where for an extra 12 Euros, you can include either Coliseum (regular price 9.5)) or Vatican Museum/Sistine Chapel skip the line tickets. Keep in mind as you plan that this company offers either 24 hour tickets (25 Euros) or single day ((20 Euros), which may influence how you plan.
4. Coliseum and Forum – Here again, tickets are necessary, though in this case you do not get a timed reservation. Key insight here is that there are more exits than entries to the Coliseum. We found that the "main" entrance near the Coliseum had far longer lines. Because of construction, there is a "hidden entrance" as you go down the Via dei Fori Imperiali where we found no line at all. Restaurant recommendation is: Taverna dei Fori Imperiale on the Via della Madonna dei Monti . We had a very good homestyle meal there at 117 Euros for 4. It is a popular address for tourists and Romans though so in summer you may need reservations
5. Subway – We found taxi to be fairly cheap. We took a cab from the far end of the Forum near the Bocca de la Verita al the way to the Spanish Steps for 4 people at 8 Euros. The subway is convenient, depending on your starting point for getting to areas outside the "centro storico" or historic center. We used it to go from the Spanish Steps to the Vatican. It was clean, cheap and fast.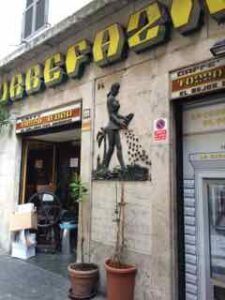 6. Pantheon – It's FREE and worth 100 times the price of admission. Marvel at the uncovered oculus where light and everything else has come for the last 1800 years. On the far end of the square is a mecca for coffee-lovers, Tassa d'oro , where they serve "the best coffee in the world," so the sign says. It's a classic stand-up bar, but you're only there a few minutes. You order and pay first, get your receipt and get your coffee at the bar and take a few quick minutes to savor the very strong but smooth elixir that will help to keep you going for the next few hours. For the kids, there are at least four gelaterias within 50 feet.
7. Campo de Fiori – Who doesn't like an open air market? I would say that Campo de Fiori is so special because of the way its colors pop in the combination of weathered buildings and Roman sun. It's also fun for photos and fresh fruit. Restaurant recommendation: Salumeria Veneria Roscioli at 21-22 Via dei Giubbonari. If this was just a Salumeria, it would be great, but they serve pasta and main courses as well. Wonderful food, fun atmosphere and great wine pairings. It is also on all the lists, so we'd recommend reservations for lunch or dinner. Lunch for 4 was 123 euros which included a huge plate of cheeses and jamon iberico. We dined like princes here. Another similar pick nearby in the old Jewish Ghetto is Beppe e I Suoi Formaggi at 9/11 Via Santa Maria Del Pianto. This one is slightly more formal but with friendly service and delicious food. Either of these two make for memorable meals.
8. The Spanish Steps – We stayed near the Steps and loved the location. I always think you should see the Steps from the top where you can enjoy the view and then come back down, ideally near sunset. We also had a wonderful dinner here (great steak!) at Dilla at 41 via Mario de Fiori, and liked it so much, we went back twice.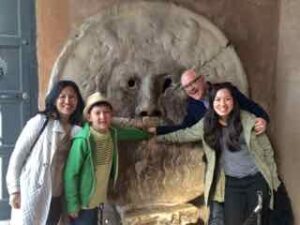 9. Bocca de la Verita – If you loved seeing Audrey Hepburn and Gregory Peck frolic in black and white, then this is a must-see stop on your Roman holiday. Sadly, with so many tourists, plan on standing in a fairly fast-paced line for a quick dip of your hand in the mouth. The site is very friendly and the guard who was there was happy to take photos of all the tourists. After plunging your hand down the gullet of stone, you are funneled into the Santa Maria in Cosmedin church where you may also want to see the flower-crowned skull of St. Valentine in a side altar on the left.
Other stuff:
We took the 7 Euro elevator to the top of the Vittorio Emmanuele II monument and "Altare della Patria." (the BIG thing at the end of the Via del Corso) where you have a great view of all of Rome and the Forum. I regretted we didn't have the time or energy that day to visit what looked like a great museum you pass through during the climb: museo risorgimento, which covers the Italian restoration of the monarchy through WWI.
You'll without doubt go to Piazza Navona, but we have little to add there. We did go to nearby restaurant called Mimi & Coco, with not particularly good results.
Buon viaggio!