Parisian Flat – our Parisian apartment: Rue de Vaugirard
In one of the best locations of Paris in the 6th arrondissement, 3 minutes from the Northwest entrance of the Luxembourg gardens, 7 minutes to Aux Deux Magots and 10 minutes to the Bon Marché, this completely renovated, 2 Bedroom apartment overlooking two courtyards provides a quiet retreat from the heart of Saint Germain des Prés.
Rue de Vaugirard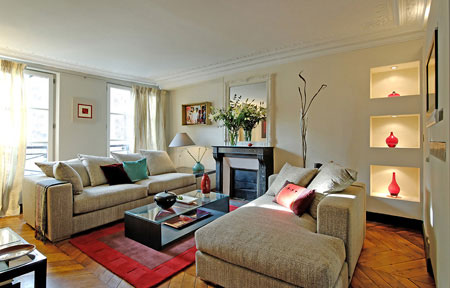 The rich urban decor enlivens the classic living room. The living room features a plasma TV, DVD player, and full stereo, including iPod dock. The apartment is wired for Ethernet and WIFI internet connection.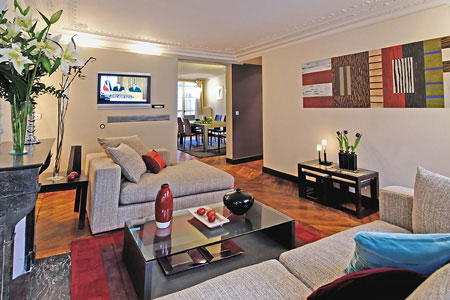 Modern furnishings and original French art complete the elegant and comfortable living room and dining room. Benefiting from its position on the top 5th floor (6th floor American), the living room captures sunlight well into the evening and is a warm room for entertaining, a quiet evening reading, or watching the plasma TV.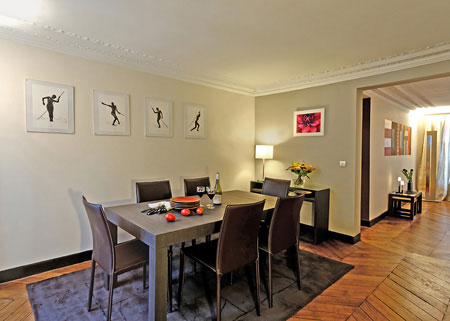 The dining room features a beautiful table, designed by the legendary Mario Bellini, in natural oak stained in grey wenge, with seating for up to eight, for entertaining or dining at home. Art work Philippe Girardeau.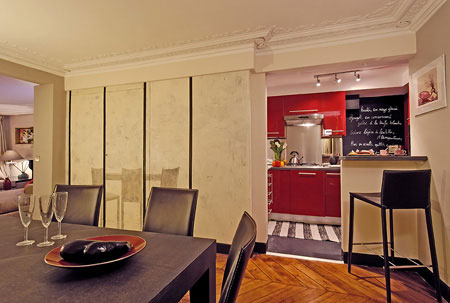 Color and contrast provide a perfect setting for breakfast, lunch, dinner and conversation with friends around the table
This striking kitchen is designed completely to modern standards. It is fully equipped with microwave/conventional oven, refrigerator and freezer, coffee machine, toaster, dishwasher and laundry washer/dryer. The countertop is natural oak stained in rich tobacco color and the chalkboard lends a hint of bistro atmosphere. There is a window for more light and fresh air, overlooking the courtyard.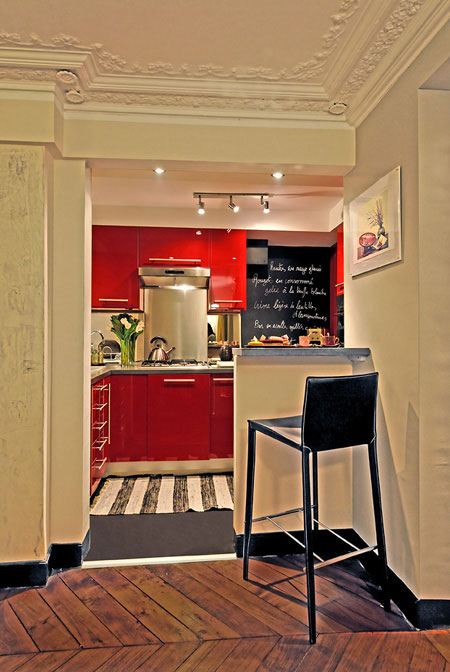 The small bar is perfect for drinking an espresso while reading Le Monde or the International Herald Tribune.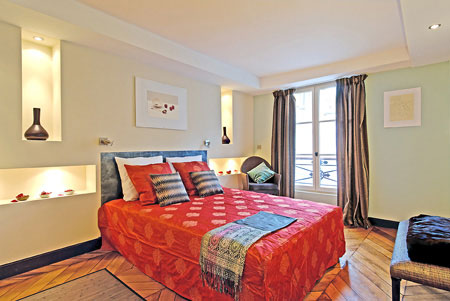 Clean, polished design and luxurious decor creates a soothing ambiance in your home away from home. The master bedroom suite features a king-size bed with ample closets and access to the master bath. Its walls are in calming tones, with rich textured curtains, with a ceiling to floor built-in closet.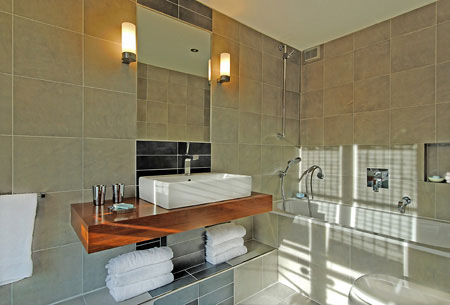 The adjoining full master suite bath is handsome and understated in design, with broad grey tiles with ebony accents. The warm cherry wood counter with beautiful square sink is the focus, with modern fixtures and a full soaking tub. There is a towel warming rack.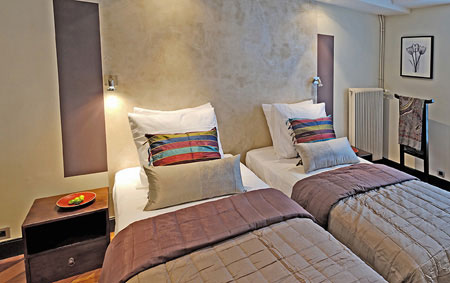 2nd bedroom can be set up with twin beds or one king size bed.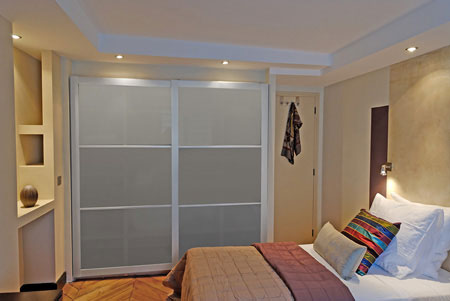 Both bedrooms have ample storage space with the wall-to-wall built-in closets.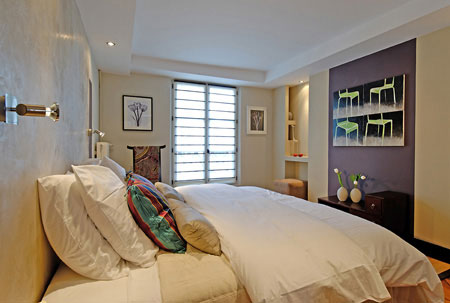 The second bedroom faces East to capture morning sunlight from the penultimate floor. Here it is set up with a king-size bed. The walls are saturated in deep aubergine and grey colors, infused with Asian accents, with painting by artist Mathieu Ducourneau.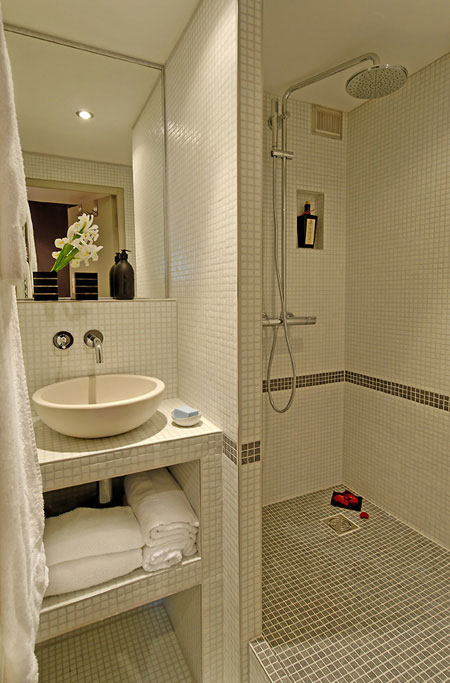 The second bathroom is designed as a variation in grey and dark taupe mosaic tiles. It is located directly across the hall from the second bedroom and includes an oversized rainbath shower head.
Rue de Vaugirard is a beautifully appointed, two-bedroom apartment on the fifth floor of a 19th century Haussmann building. It is adjacent to the Jardin du Luxembourg and has been completely renovated including a new floor in 2015. Its ideal location is perfect for those who want to explore Paris but also want to inhabit it like a native. It is minutes away from the Bon Marché, Cafe de Flore, and just short promenades to the Musée d'Orsay, Notre Dame and the Sorbonne. Its high floor and courtyard settings make it a quiet, luxurious retreat from the bustle of the urban city life of St Germain des Pres.
Spaciously organized with an area of 81 square meters (870 sq.ft ), the apartment offers ample living space with luminous living areas, comfortable bedrooms, fully equipped kitchen, and two modern bathrooms.
The location is ideal:
Velib bike station 1/2 block away
Two different Metro stations within about 100 yards (St. Placide and Rennes).
A Monop' supermarket two doors down from the apartment entrance, as well as three bakeries within 2 short blocks
Jardin du Luxembourg only 3 blocks away
Elegantly furnished, the apartment comes with a range of services including housecleaning once a week, Cable TV, washer/dryer, dishwasher, speedy WIFI, and telephone for local outgoing and all incoming calls.
Ideal for 4 people, may sleep 5 maximum
Where is rue de Vaugirard located?
                                                                     Layout of Rue de Vaugirard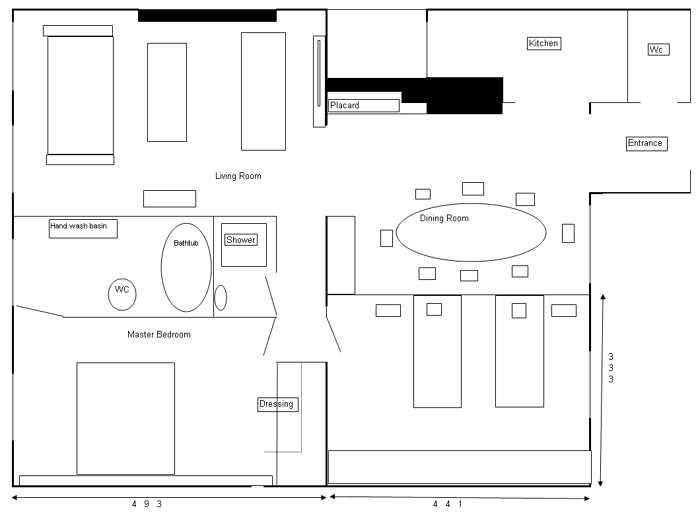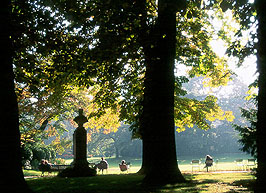 Save
Save