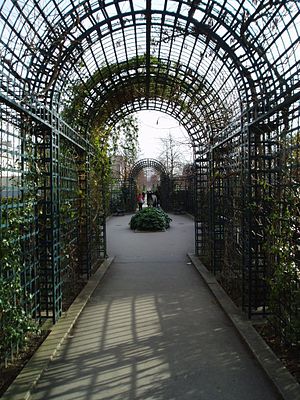 Ok. I thought New York City's High Line was an original. Then I discovered that idea of elevated linear parks built on old railroad tracks actually originated in Paris in 1988 with the design of the Promenade Plantée, a 2.8-mile-long series of gardens built atop an abandoned railway viaduct in the Right Bank's 12th Arrondissement, anchored by the Opéra Bastille at one end and the Bois de Vincennes at the other.
I dragged my family to the Bastille, with the promise of a Paris High Line. I have to say, NYC trumps Paris, on this one. The Promenade Plantée and the High Line are similar: although its landscaping is more traditional than that of the relentlessly hip High Line, the Promenade is likewise tightly squeezed between buildings. They both offer a new way of experiencing the city — from above. It is the unexpected views of surrounding buildings that make walking the High Line much of a memorable experience that the Promenade Plantée.
It is a beautiful walk on a summer day. The Promenade goes from Bastille, to Jardin Neuilly/Gare de Lyon, and then onto Bois de Vincennes. I walked half way, then came down to street level, and walked back exploring Viaduc des Arts, with the most beautiful, design shops in the city.
Avenue Daumesnil
12e Paris
Save